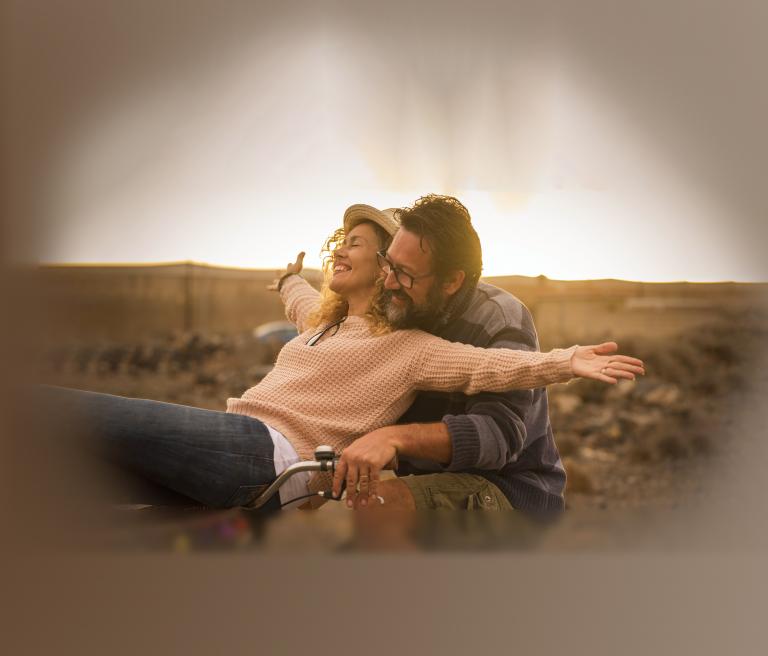 Bronchiolitis Obliterans Syndrome
Zambon is continually searching for solutions with the potential to make lives better for people affected by severe respiratory diseases such as BOS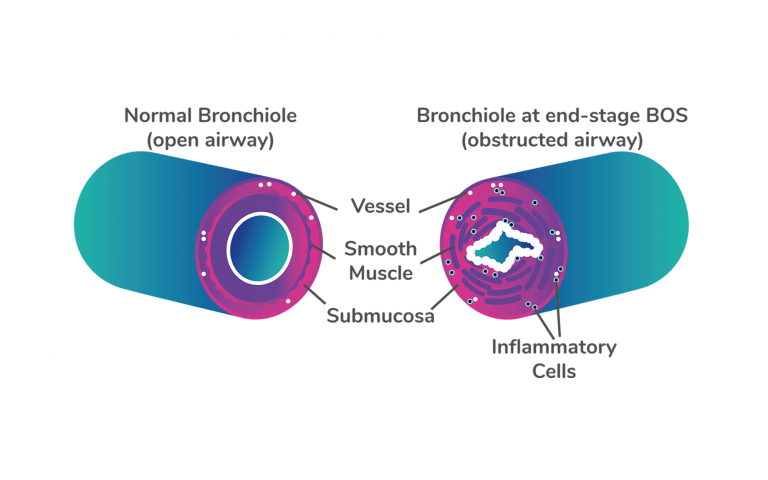 BOS
Bronchiolitis obliterans syndrome (BOS) is the most common form of chronic lung allograft dysfunction (CLAD) after lung transplantation (also referred to as chronic rejection). Chronic rejection can occur as the result of an immune reaction to the transplanted lung or lungs. In BOS, an uncontrolled immune reaction leads to chronic inflammation of the small airways (the bronchioles) of the lungs. This causes scarring and narrowing of the airways that continues to worsen over time, limiting an individual's ability to breathe.
Understanding BOS
Historically known as "popcorn lung", BOS commonly affects people following lung or stem cell transplantation, although it is also associated with autoimmune diseases and exposure to environmental contaminants.
BOS is a rapidly progressive inflammatory rare disease that irreversibly destroys the airways of the lungs and usually leads to respiratory failure and death within 2 to 4 years after diagnosis.1 Currently, there is no approved treatment indicated for BOS.2
An estimated 50% of lung transplant patients develop BOS within five years post-transplant.3 Theaverage incidence of BOS in alloHSCT patients is 8.3%.4 There are an estimated 30,000 lung transplant and alloHSCT recipients worldwide with BOS. 5
1. Chambers DC, et al. J Heart Lung Transplant. 2018;37(10):1169–1183.
2. Verleden GM, et al. J Heart Lung Transplant. 2019; 38(5):493-503.
3. Weigt, et al. Semin Respir Crit Care Med. 2013;34(3):336–351.
4. Soubani, AO. Eur Respir J.  2007; 29: 1007-1019.
5. Sheshadri, A, et al. Clin Ther. May 2022, https://doi.org/10.1016/j.clinthera.2022.03.011.
CHEST 2022 Learning Theater
Immunopathogenic and Clinical Considerations in the Early Diagnosis and Management of Bronchiolitis Obliterans Syndrome
PROGRAM OVERVIEW
This program will focus on the current understanding of BOS, including its clinical features, diagnosis, progression, and treatment. Practical considerations for identifying and managing BOS in both lung transplant–related and non-lung transplant–related cases will be highlighted.
This program is sponsored and organized by Zambon USA, Ltd.
This is a non-CME event and does not qualify for CME, CE, or MOC credit. This event is not part of the official CHEST Annual Meeting 2022 conference sessions. This event is not endorsed by CHEST and does not reflect the views or opinions of CHEST.
The Future of Bronchiolitis Obliterans Syndrome

The first episode of ISHLT Voices is now live! "THE FUTURE OF BRONCHIOLITIS OBLITERANS SYNDROME"
This episode was created for ISHLT Voices and sponsored by Zambon USA Ltd.
BOS - The Achilles Heel of Lung Transplantation
During Rare Disease Week 2021, Zambon shared the findings of a comprehensive research project involving interviews with almost 40 BOS patients, caregivers and healthcare professionals. The findings provide a unique insight into the emotional impact of a BOS diagnosis, and the reality of living with BOS and the challenges and opportunities of BOS detection, diagnosis, and care.
BOSTON Program
The BOSTON clinical development program is evaluating investigational Liposomal Cyclosporine A for Inhalation (L-CsA-i) for the treatment of BOS. The formulation of L-CsA-i is administered via the optimized investigational eFlow® Technology nebulizer system (PARI Pharma GmbH). The rationale of inhaled therapy is to deliver sufficient concentrations of drug directly to the site of disease while minimizing systemic exposure.
We are currently conducting two global pivotal phase 3 studies to evaluate the safety and efficacy of L-CsA-i for the treatment of BOS in adults following single lung (BOSTON-1) or double lung (BOSTON-2) transplantation. The studies are enrolling patients in eight countries, including more than 20 US clinical sites.
BOSTON-3 is an open-label extension study for eligible patients who complete participation in either the BOSTON-1 or BOSTON-2 studies.
BOSTON-5 is a planned safety study in pediatric patients with BOS.
L-CsA-i has received FDA Fast Track and Orphan Drug Designations for the treatment of BOS from US Food and Drug Administration and European Medicines Agency, reflecting the high unmet need of the disease. If approved, L-CsA-i would be the first treatment indicated for BOS. Conditioned upon receiving necessary regulatory approvals, we are preparing market access and product launch plans in the U.S., EU and other global markets.
Conditioned upon receiving necessary regulatory approvals, we are preparing market access and product launch plans in the U.S., EU and other global markets.
Expanded Access or Compassionate Use
At this time, Zambon does not offer access to our unapproved medicines via expanded access or compassionate use and believes that participating in its ongoing or future clinical trials is the best way to access this medicine that is not yet approved by U.S. Food and Drug Administration.  We have considered many factors, including our ability to maintain supply for the ongoing and planned clinical trials, enroll and complete ongoing and upcoming clinical trials, and make reasonable assessments of potential risk versus benefit for patients outside the clinical trial setting.  In the event that Zambon decides to consider expanded access use for liposomal cyclosporine A for inhalation (L-CsA-i) in the future, this guideline will be updated and we will evaluate and respond to each expanded access request on a case-by-case basis using criteria that ensures such requests are considered in a fair and consistent manner.
If you or a family member are/is interested in gaining access to our investigational therapy, we encourage you to consult with your physician regarding the possibility of participating in our clinical trials. For additional information about this posted guideline or if you are a treating physician requesting expanded access, please contact us via email at respiratory.patients@zambongroup.com. We anticipate acknowledging receipt of such inquiries sent to this email within three business days.
The posting of this guideline by Zambon shall not serve as a guarantee of access to any specific investigational drug by any individual patient.  In accordance with the 21st Century Cures Act, Zambon may revise this expanded access guideline at any time.  The guideline will be updated with a hyperlink or other reference to the expanded access record on clinicaltrials.gov after such record becomes active.
*For US Healthcare Professionals